C-Nautical B.V. Sappemeer, Netherlands

C-Nautical has extensive knowledge and expertise in the design and manufacturing of winches, capstans, chain stoppers as well as associated deck equipment as bollards, warping rollers, chocks, fairleads, anchors and chains. For every type and size of vessel C-Nautical provides deck plans for efficient and effective anchoring and mooring operations.

unselect all/select all
You have 0 products selected
C-Winch ARSW Auto-tensioning Reel Spooling Winch
Send enquiry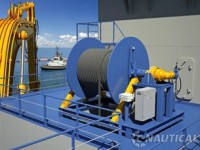 Turnkey delivery and short delivery time. Self-contained electric-hydraulic or electric frequency
controlled execution available. Bearing blocks detachable in two parts, for safe and easy change of rope reel including shaft.